Trends in shopping and e-commerce after Covid-19
Coronavirus pandemic has changed many habits, including the way we shop and what we are shopping for. With many restaurants, gyms, theaters, bars closed down and us having to retreat to our homes, we all turned to online shopping to some extent. Some items we used to shop for lost their importance, while others became fundamental.
As we are trying to adapt to the new normal, some of us have discovered new brands and turned away from our favorites. Some try to use their purchases for longer durations and others buy in bulk and in quantities way more than they actually need.
We all respond to times of crisis like this in different ways. Consumers around the world are in fact diverse and segmented, and our behaviors are driven by factors related to our priorities led by our socioeconomic status, location, gender, and age.
Distinct consumer behaviors during the pandemic
According to the first edition of the EY Future Consumer Index, tracking emerging consumer behaviors and sentiment around the world, Covid19 crisis is now defined by four consumer behavior segments: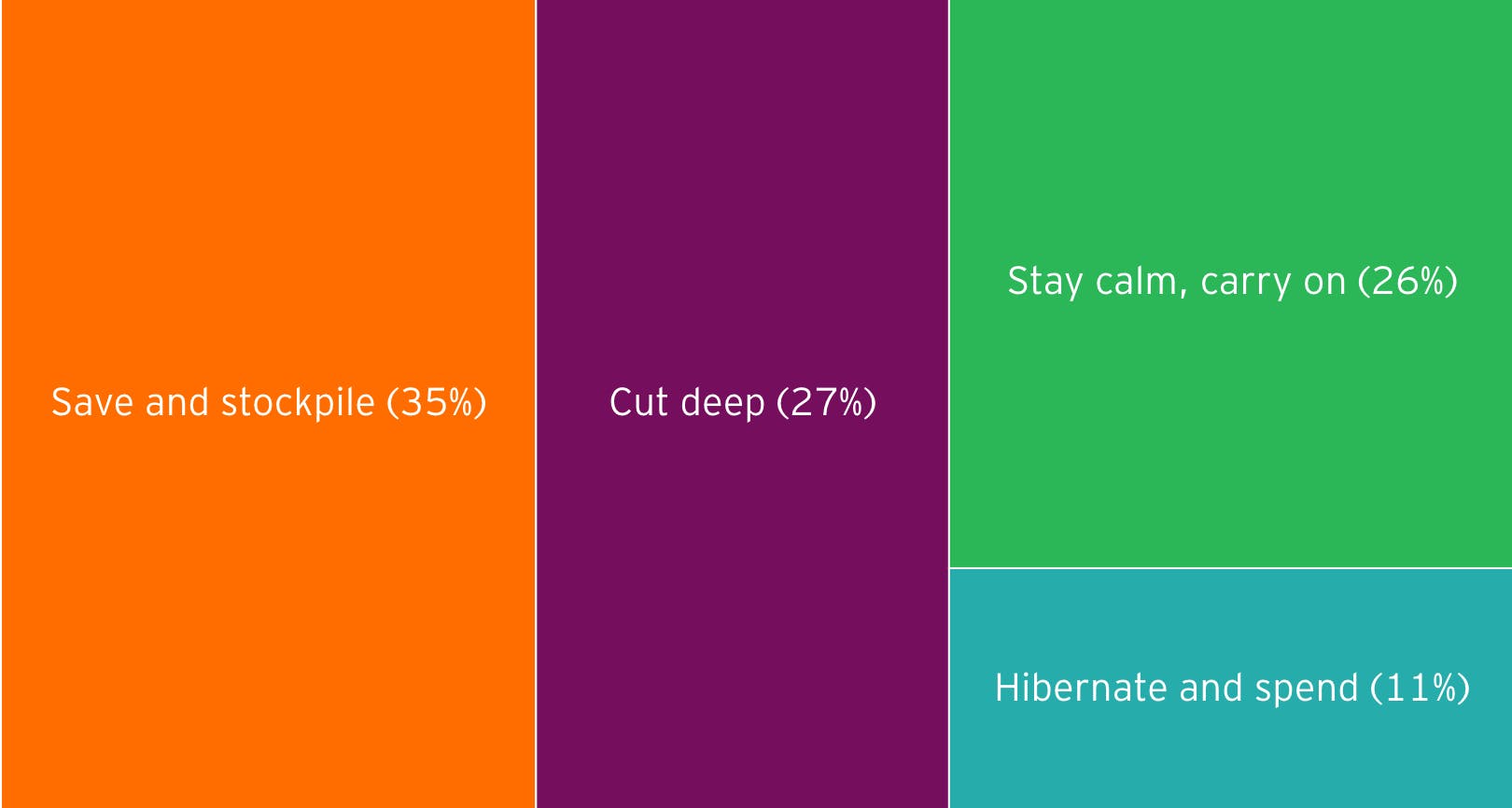 Cut deep: These consumers are mainly above 45 years old and their employment status has seen a major impact by Covid-19. Some people have seen their jobs suspended. 78% are shopping less frequently and 64% are only buying essential items. 33% feel that brands are much less important to them in this period.
Stay calm, carry on: These consumers do not feel directly impacted by the pandemic, and they do not change their spending habits. Only 21% of them are spending more on groceries, while 18% are spending less.
Save and stockpile: These consumers show particular concern for their families and the long-term projection. More than 1/3 (36%) now spend more on groceries, while most spend less on clothing (72%) and leisure (85%).
Hibernate and spend: These consumers (who are primarily between ages 18-44) are most concerned about the impact of the pandemic. Yet, only 40% of this segment say they are shopping less frequently. 42% say that the products they buy have changed significantly and 46% of them say they pay more attention to which brands they shop from.
Similarly, market research company Nielsen has identified six key consumer behavior thresholds related to the Coronavirus pandemic and their results on markets:
Proactive health-minded buying (preventative health and wellness products)
Reactive health management (protective gear like masks and hand sanitizers)
Pantry preparation (groceries and household essentials)
Quarantine prep (shortages in stores, fewer visits to stores)
Restricted living (much fewer shopping trips, limited online fulfillment)
A new normal (returning to daily routines, permanent changes in the supply chain)
Online sales and e-commerce
As social distancing has been embraced as a way to fight the spread of the pandemic, we have seen a slow down in in-store purchases. People have rather turned to e-commerce and online shopping.
Data by Criteo shows that a huge gap between online and offline sales has emerged starting from early March onwards, in the US.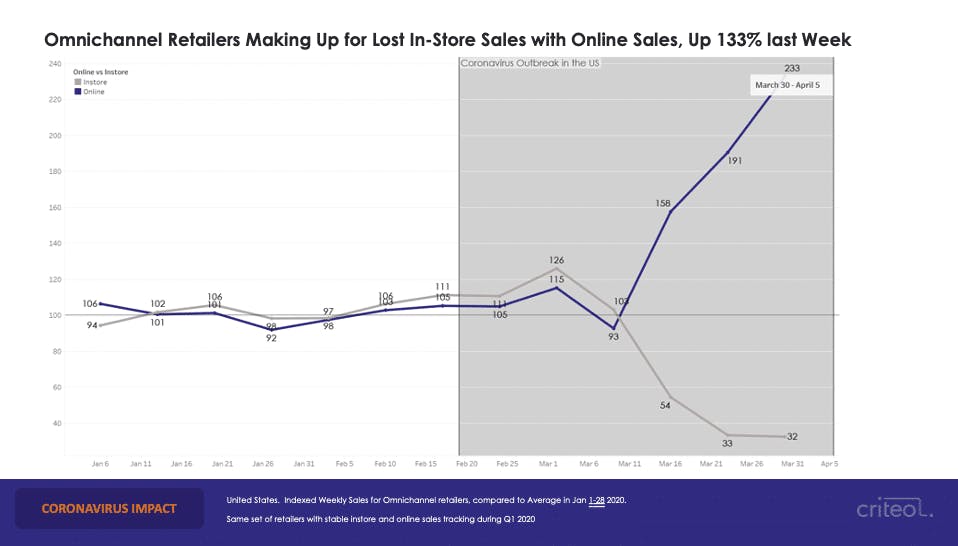 Similarly, data from Adobe Analytics, monitoring the e-commerce transactions of 80 of the top 100 US retailers, show that the Covid-19 outbreak had an impact on the online shopping behavior in the United States.
The interactive chart by COVID-19 Commerce Insight, an initiative of Emarsys in cooperation with GoodData, shows how pure e-commerce and online retailers performed in the last 7 days compared to the same period in the last year, before the Covid-19 crisis. The change in the US is remarkable with a +110% increase in the orders.
Product categories that stand out
Declaration of the pandemic caused panic and diverted people to buy medical supplies (masks, soap, hand sanitizers, etc.) and essential products such as toilet paper and bread. We have seen emptied shelves in household sections of markets all around the world.
According to Adobe's analysis, e-commerce purchases of products such as hand sanitizers, gloves, masks, and antibacterial sprays have increased by 817% in the US. Purchases for cold, cough, and flu products have increased by 198%, online purchases for pain relievers increased by 152% and for toilet paper by 186%.
Similar to the urge for buying toilet paper, online sales of non-perishable foods such as canned goods and shelf-stable items also went up by 69% and 58%.
The following product categories are also among the most purchased according to Criteo sales date:
Webcams: Working and socializing from home diverted people to buy webcams which enable them to communicate visually and virtually.
Sleep and casual wear: Spending more time at home necessitated comfortable home wear.
Shaving and grooming products: Closing down of barbershops and hair salons forced people to take grooming and styling in their own hands.
Indoor sports equipment: With gyms closing down and less opportunity to work out in open space, people turned to indoor sports items such as yoga mats and stretch exercise bands.
Innovative business solutions
Customers around the world are shifting their focus in shopping in an attempt to cope with their new needs in this time of uncertainty. Business owners should correspondingly adapt to the changing behaviors in order to serve their customers in the best way they can. Businesses offering flexible and innovative solutions come to the forefront in this time of crisis.
Forward.me is providing customers worldwide with fast, affordable, and secure package forwarding solutions to shop online from US stores and receive packages to anywhere in the world. If limited shipping options had been a barrier in buying your needs from the USA, discover Forward.me's potential today to shop safely and save at the same time.