Best mirrorless cameras under $1000 to buy from the US in 2020
Online ShoppingAugust 03, 2020
Have you recently taken photography as a new hobby or are you a photography enthusiast feeling an urge to upgrade your device? Looking for great devices for a good value that will fulfill your fundamental needs?
We have rounded up the best budget-friendly, yet advanced cameras, all under the mirrorless category and $1000, that you can buy online from Amazon.
Worried that your country is not in the shipping range or shipping will challenge your budget? Leave those worries aside. Wherever you are on earth, Forward.me enables you to shop online from US retailers, ship your items to your designated US address, and receive your packages swiftly and safely to your actual location.
Before we move on to our selection, let's take a brief look at the advantages of mirrorless cameras. Mirrorless cameras:
are way smaller and lighter than DSLR cameras
are simpler and more user-friendly
let you preview your images on-screen with their electronic viewfinders
have superior autofocus
have a higher number of focus points
can shoot more photos per second
are more stylish and chic in terms of design
look less intimidating and are quieter
6 great mirrorless cameras that cost less than $1000
Price: $699 USD with XC15-45 mm kit on Amazon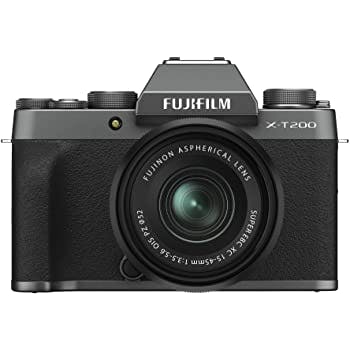 This is an inexpensive and well-designed mirrorless camera, with an excellent 4K video quality, a 24MP APC-C sensor, and a large 3.5" touchscreen that can be flipped out and even be turned other way around for selfies.
With its easy interface and compact body, it is an amazing alternative to smartphones. Its image quality is very good and it offers a broad range of features that you can choose from.
The simplistic menu, good autofocus performance, impressive JPEG colors, and 270 shot battery life make this device competitive and a good value for the money.
Fujifilm x-T200 comes in three different metallic body options as silver, dark silver, and champagne gold.
Price: $946 USD with 50 mm lens on Amazon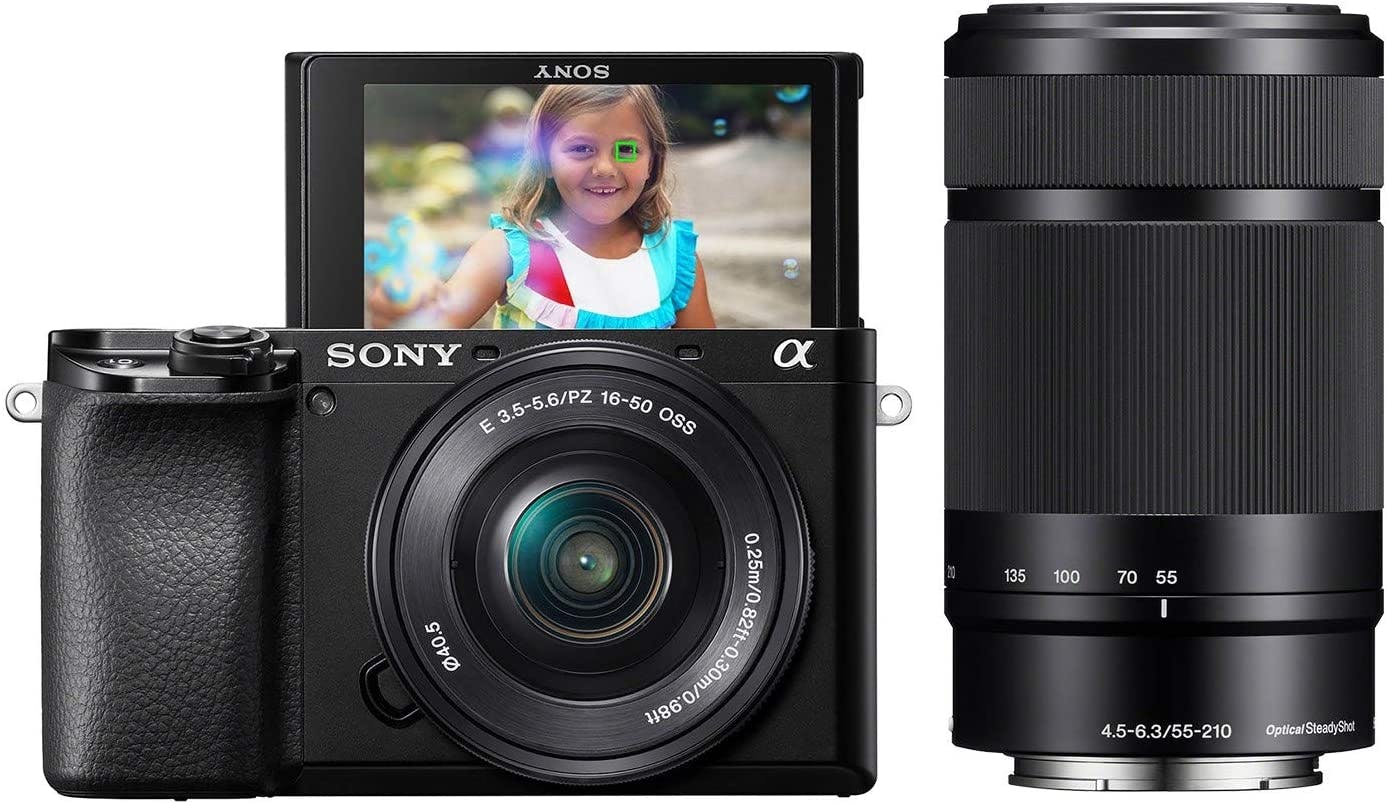 Sony A6100 is a high-performance mirrorless camera with a simple and powerful autofocus system. The device lets you selecting your subject easily and it has a very impressive ability to track moving objects with a simple touch of the display screen.
Similar to the previous device we suggested, A6100 also has a selfie-friendly flip-up 3" touchscreen. However, the menu and control options are rather more complex than Fujifilm. Still, with great performance on its auto mode, it's a fascinating point-and-shoot camera for entry-level photographers.
A6100 records 4K/30p videos and shooting videos is super easy with its Real-Time Tracking autofocus. Battery life is also pretty good for its category. It allows 380 to 420 still shots and around 125 minutes of video.
The device comes in the standard black option only.
Price: $896.95 USD with Nikon Z DX 16-50mm lens on Amazon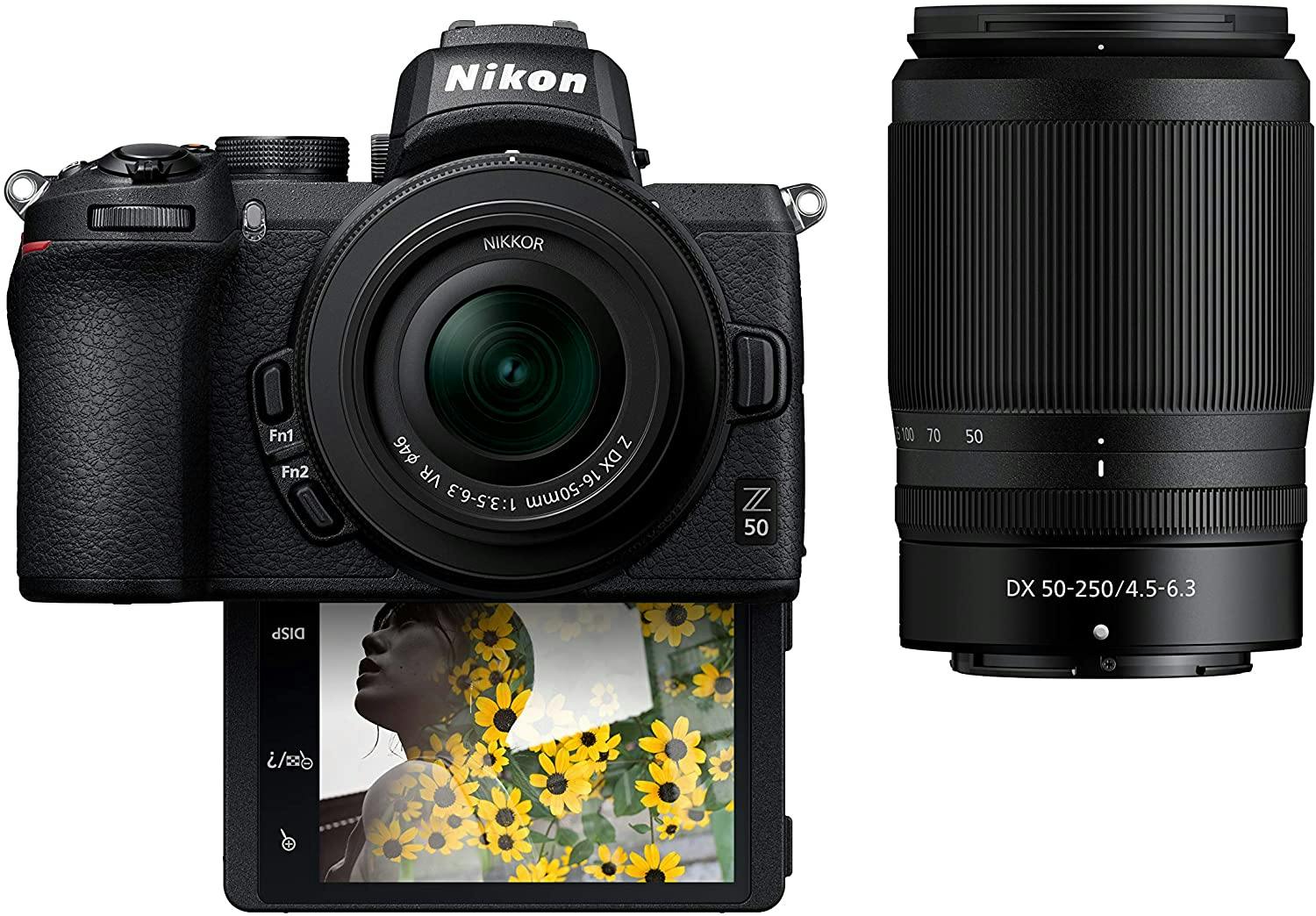 This compact and cute 20MP mirrorless camera has great image and video quality. It also has a tilting touchscreen that can flip 180 degrees right below the camera body, and it is primarily designed for selfies and vlogging use.
Simple connectivity and in-camera video trimming option make this camera ideal for influencers (which Nikon specifically targets with this model) that want to shoot and directly share without connecting the device to a PC.
Z50 allows shooting 4K videos across the full sensor width, rather than a cropped version. 4K time-lapse sequences can be created and the Full HD option features an additional slow-motion footage mode.
It is small, light, and comfortable to carry around like most mirrorless cameras. The deep grip on the side offers a more comfortable hold than the box-type bodies and lets the user freely shoot with a single and (of course if you are right-handed).
Price: $899 USD (body only!) on Amazon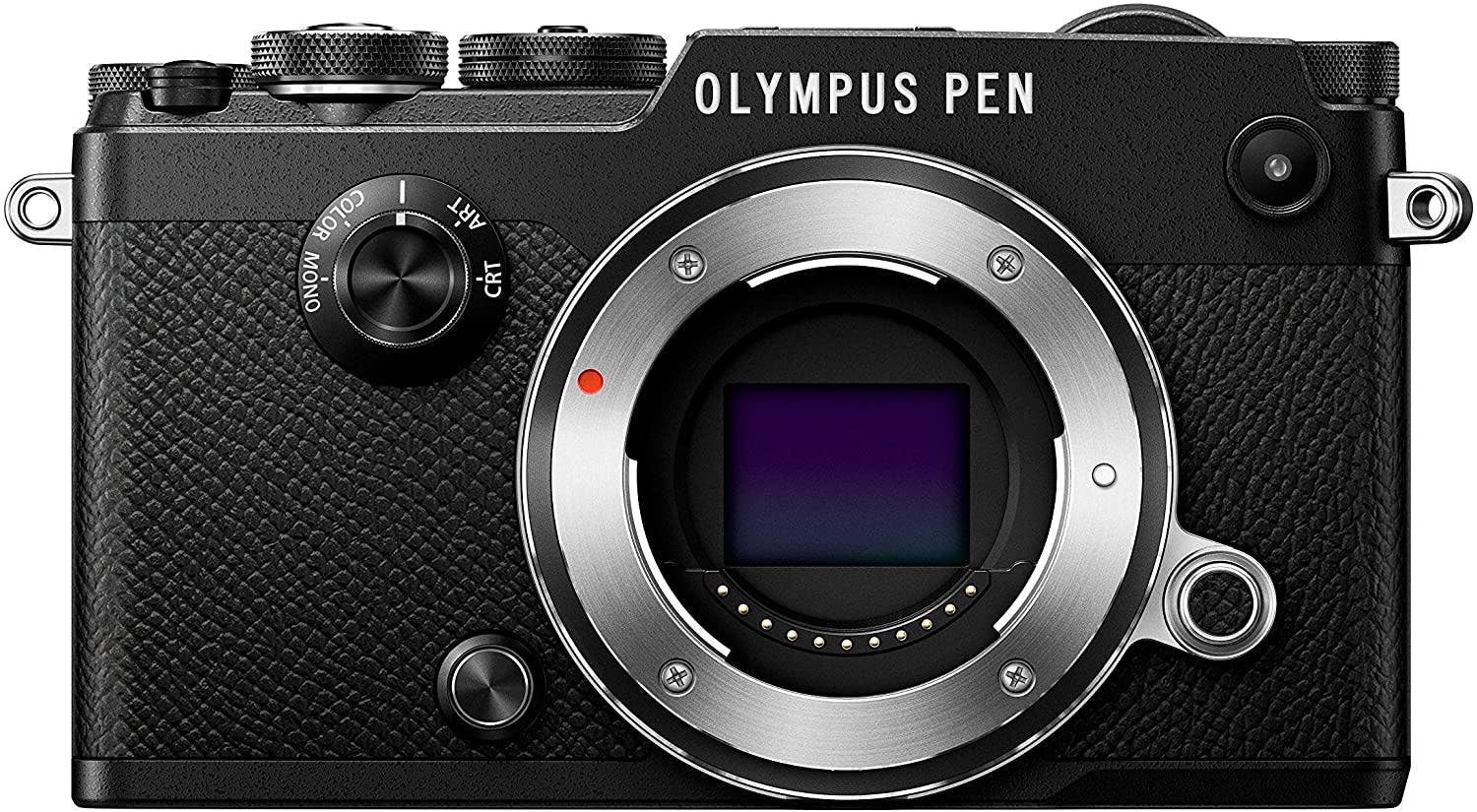 Similar to the Fujifilm series, this mirrorless camera has a vintage design that resembles good old film cameras (though the box-shaped design is far from being ergonomic).
Its advanced sensor technology and in-body image stabilization allow the user to have enhanced resolution and very sharp images even when shooting fast-paced images.
It has one of the sharpest electronic viewfinders in the market which lets you keep your eye on the subject while you easily control the settings of the camera. It also has a fast and efficient autofocus system that is superior to most models in the mirrorless class.
Its battery life is quite good, offering 330 stills, and 140 minutes of video recording. Pen-F is aimed largely at photographers and it, unfortunately, doesn't support 4K videos. Therefore, if you're recording videos is desirable for you, then you might want to consider other options.
The body comes in black and silver options.
Price: $699 USD with EF-M15-45mm + EF-M 55-200mm lenses on Amazon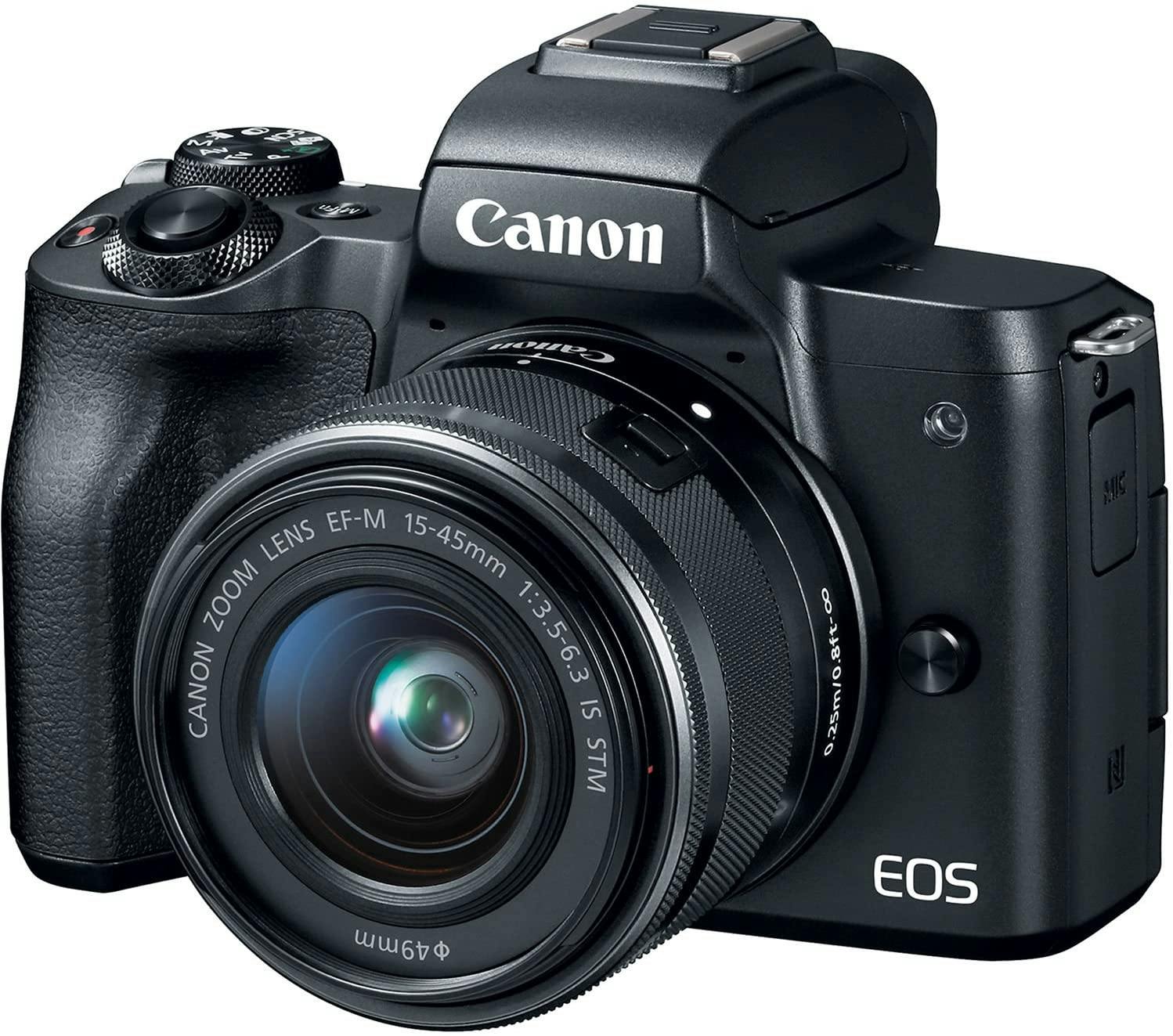 Canon EOS M50 is a compact mirrorless camera that is very suitable for aspiring photographers looking for an easy and affordable option to boost the quality of their photos and videos. With the 24.1MP APS-C CMOS sensor and the DIGIC 8 Image Processor, this camera delivers impressive colors and clear details.
Thanks to the built-in high-resolution electronic viewfinder, you can acquire high details in your photos. With Wi-Fi, NFC, and Bluetooth connectivity options, you can easily connect this camera to your smartphone sing the free Camera Connect app.
This is the only EOS model that is equipped with a silent shooting feature. The battery life is very adequate, offering 370 shots and 85 minutes of video recording.
With 4K video quality and the slow-motion full HD video option, it is proved to be both preferable for photographers and video recorders.
Price: 699.99 USD with lens and accessory bundle on Amazon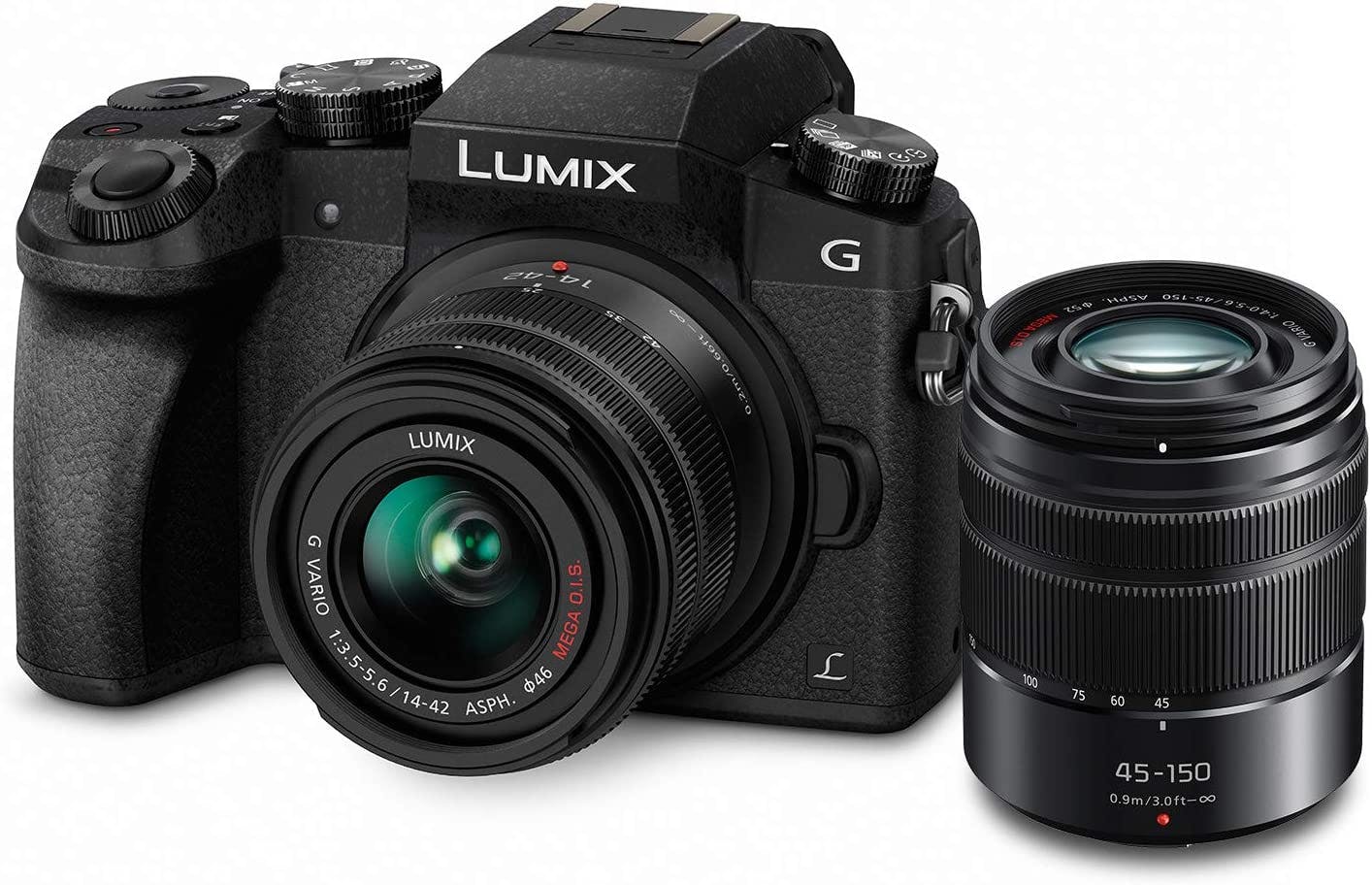 The Panasonic G7 is a hybrid camera that comes with a 16-megapixel MOS sensor, fully articulated touchscreen, 4K video, 4K photo, slow-motion HD video, timelapse, built-in flash, 4K Pre-burst, Post Focus, microphone input, and Wi-Fi.
It is a mid-sized camera, smaller and more compact than DSLRs, but rather heavier and larger than its mirrorless competitors. In addition to offering exquisite image quality, G7 is also a very capable camera for video, offering 4K capture.
It has excellent focusing performance even in low light. Focusing and menu navigation can be made on the touchscreen. The touchscreen can also be used to move the autofocus point and it can be flipped and twisted to any angle.
Battery life is ideal, offering 360 stills on a single charge. G7 is equipped with WiFi for wireless image transfer and remote control with your smartphone.