Best Keyboards You Can Buy From the USA
Let's be honest; everyone needs a good and reliable keyboard that can get them through a workday, tough college assignment, or a great gaming session. Today, keyboards aren't what they used to be, and some have a lot of cool features that can make anyone's day a little easier. These keyboards are probably a vital part of your everyday life, so you want something you can trust and a keyboard that can last.
Things to Consider:
When looking at keyboards online, there are a few factors you want to consider before diving into one.
Backlighting
Does your keyboard offer backlighting, meaning does it have lights embedded into the keyboard that will light the keys when your room is dark. This lighting can come in handy for gamers or people who work late at night in the dark.
Ergonomics might be important to someone with a home office and types a lot. A keyboard with this feature will make it more comfortable to use for long hours and reduce the stress put on the hands.
Wired or Wireless
This might be a major dealbreaker for you. Some people swear by a wireless keyboard since they use a standing desk, move around a lot, or set up a little differently than others.
Size of Keyboard
The appearance of your keyboard might be important. Some people might be leaning towards a minimalist look in their office, while others want a specific color.
Once you look at some significant factors, look at our suggestions for great keyboards you can purchase.

If you need a good keyboard for watching television on your computer, this is it. The keyboard is made specifically for entertainment, meaning it is portable, lightweight, and wireless. It comes with a hefty load of entertainment functions that make it easy to use in your living room. The cool thing about this keyboard is it comes with Bluetooth and has 2.4GHz of wireless. If you are a hardcore gamer, though, don't get this keyboard. It is not made to be gamer-friendly, and it will leave you frustrated.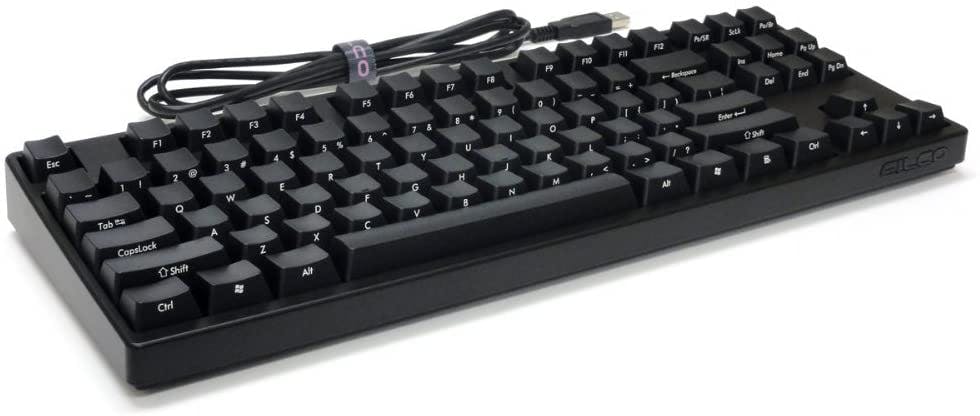 Some problems people face with their keyboards are the letters on the keys constantly fading after being used too much. Filco found a way to solve that issue without creating a backlight on your keyboard. The print on the keyboard moved from the top of each key to the side of the key facing the user. This nifty feature also allows you to have some privacy when typing since viewers to the front and sides of you can't see which letters you're choosing to use. The keyboard also checks all the boxes when it comes to durability, comfort, and reliability.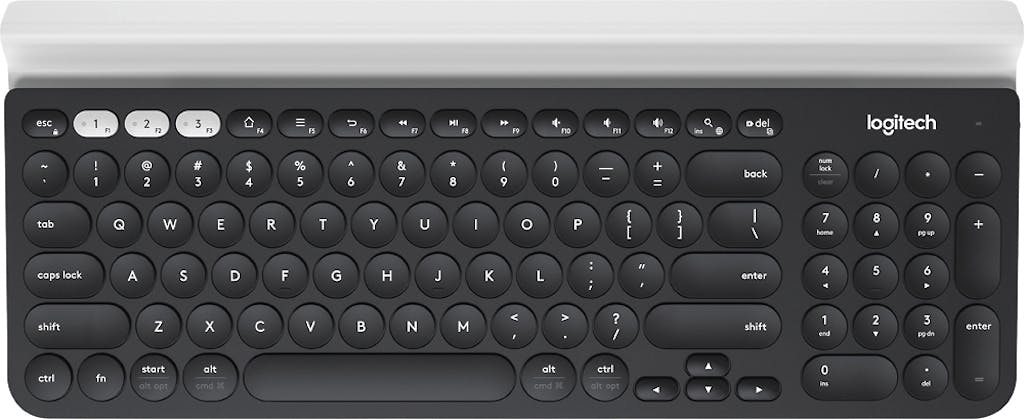 Consumers nowadays don't necessarily use a desktop computer and instead rely on their smartphones or tablets to help them work. Logitech is catering to those people's needs with the Logitech K780 keyboard. The keyboard can pair three devices to it via Bluetooth, and you can easily switch between the devices. A good feature of this keyboard is the wireless factor, so it can quickly move around with you. The keycaps are rounded, making them more comfortable to use, and they can hold devices that are 11.3mm thick in an upright position. It runs on AA batteries and comes in at a reasonable price.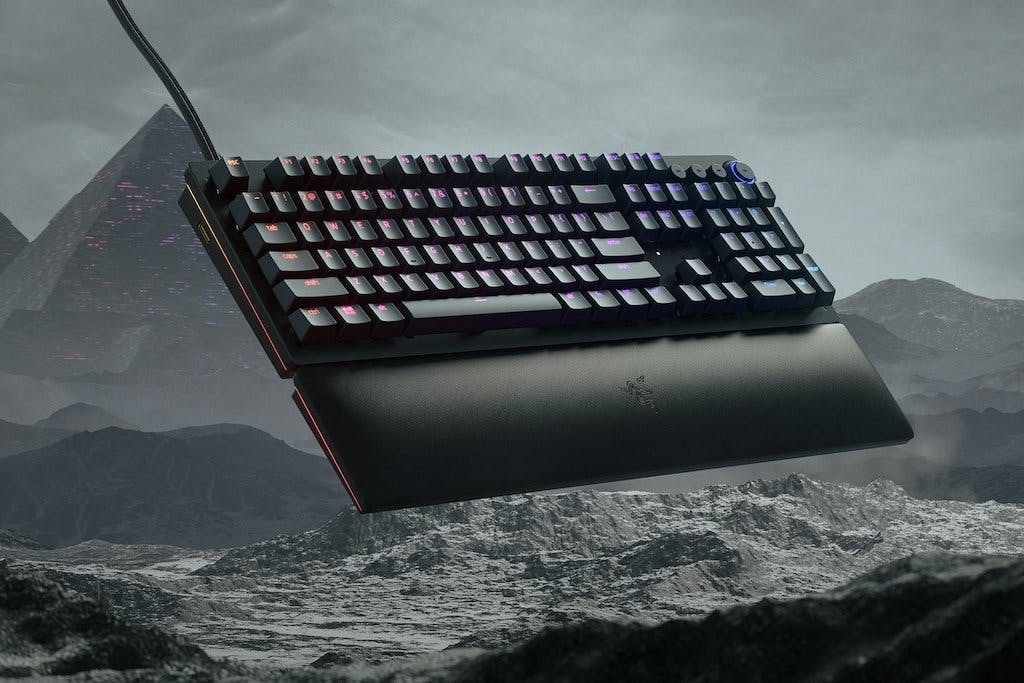 Gamers, this keyboard is for you. It has a great combination of typing and gaming technology, giving you the best overall gaming experience. It has a great wrist rest made for longer gaming sessions, and it has a fully customizable key actuation. The interface is wired, which some people don't like, but it also has keyboard backlighting. If you are a bit price conscience, this is on the higher side of things.

Office workers, you'll love the Logitech MX Keys. The keyboard is full-sized but on the thinner side of keyboards with a sleek design that looks nice in most offices. The frame is made from metal and has white backlighting that can help if you work in the dark. The keyboard offers both Bluetooth setup or USB, and it can pair to three devices simultaneously. Each key has an indentation on it that helps reduce typos if you're a fast type. This is a great keyboard to use every day without having a lot of issues.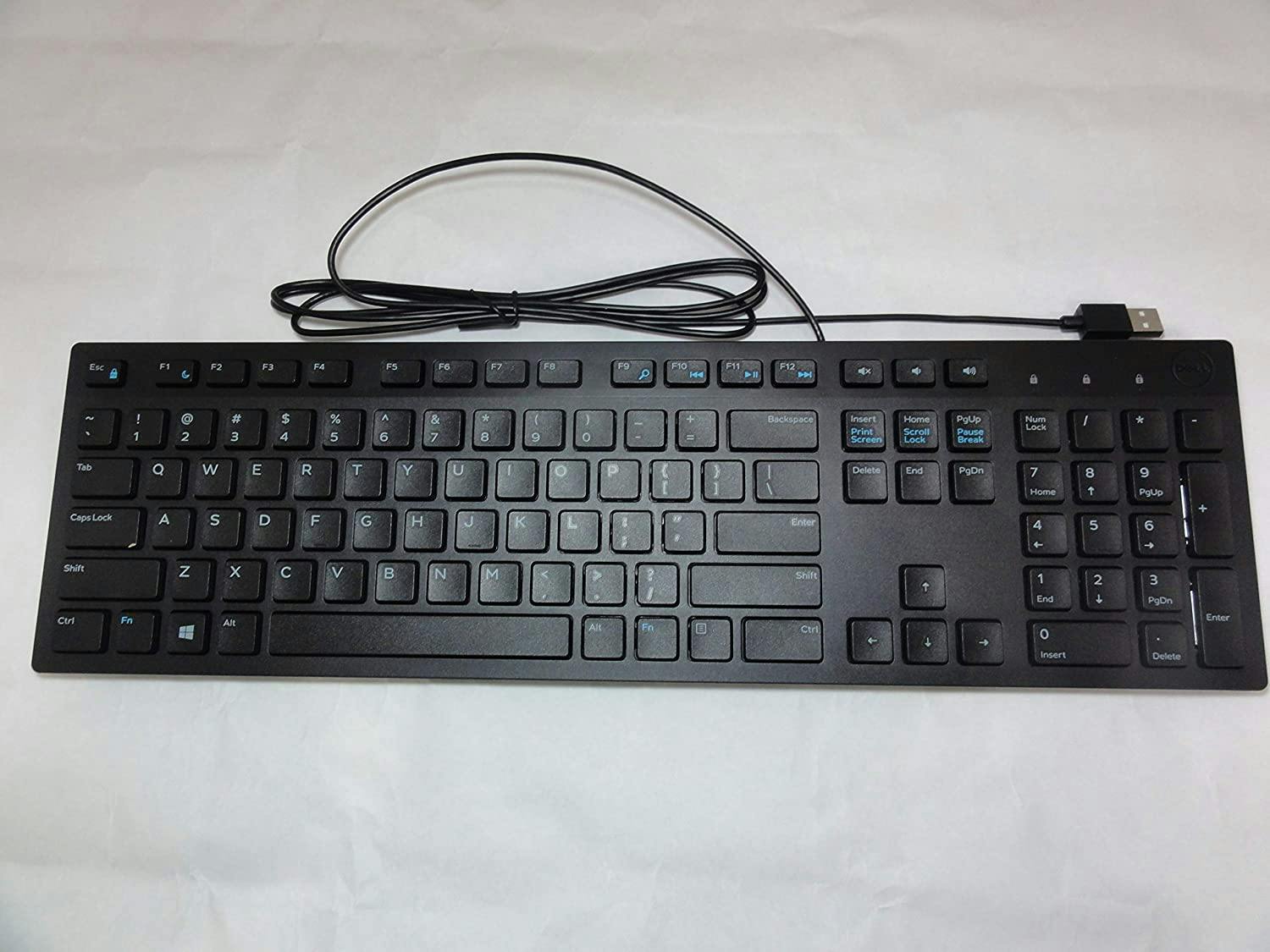 The Dell Wired Keyboard in black comes in at a great price and is a super reliable keyboard to use. The keyboard is wired and easy to set up but doesn't work with MacBook since it uses a USB to connect to your computer. It offers multimedia keys and has a full number pad for those who need it. The design is simple, and honestly, you can't get a better keyboard for under $15.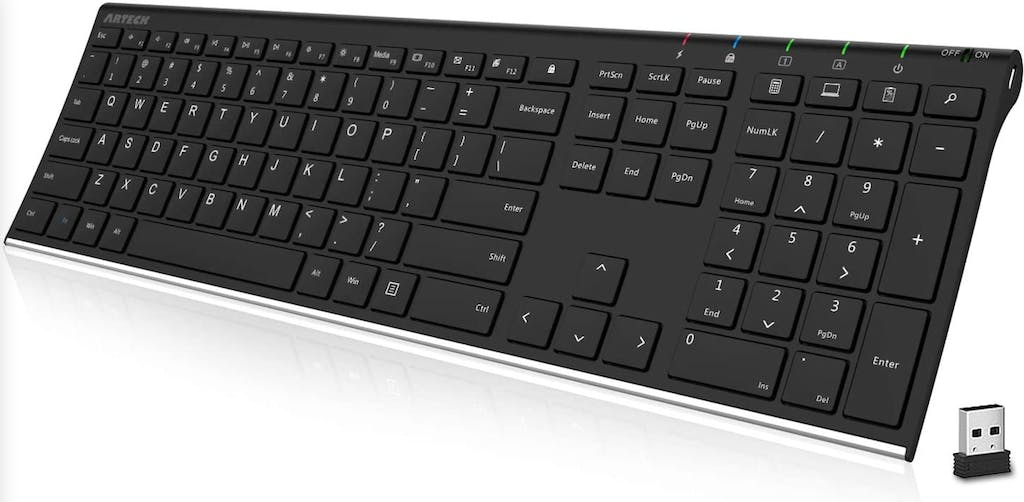 If you want a wireless keyboard that doesn't cost an arm and a leg, the Arteck is right up your alley. The keyboard is lightweight and great for a minimalist. The USB receiver allows this keyboard to connect to any device. It works for both Windows and Macs but works better with Windows. You can use the keyboard for six months on a single charge, and the setup is painless and straightforward. The 24-month warranty is excellent just in case you run into problems.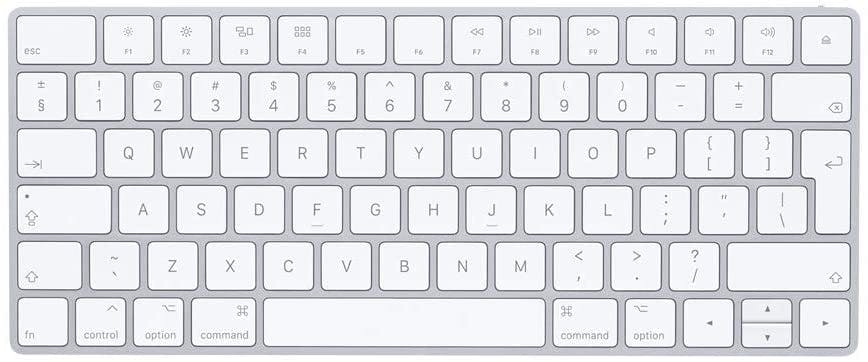 Most of the keyboards we've mentioned cater to Windows, but this one is for all those Mac users out there. The Apple Magic Keyboard has a slim and compact design that offers a clean and minimalist look for your office. You can choose two options, one with a number pad and one without. The keyboard is similar to the Logitech MX keyboard, where it offers a scissor-switch under each key, and the key travel is short. The feel is firm and tactile but nice a quiet for people who need to click away in silence. The one downside is the keyboard isn't backlit, so if you're working in a dark room, you can't see the keys as easily.

Home offices won't be complete without the Microsoft Sculpt Ergonomic Keyboard. The keyboard has a gap down the middle that gives the keys an angle and an ample palm rest. The keys are very quiet, and it is completely wireless. Setup includes a dongle with the keyboard, but there is no backlighting offered. It also comes in at a great price so that you won't spend too much on a nice keyboard.

The Nuklz N Large-Print keyboard is simple and does its job. The keys are in a giant, bold print, offering an easier user experience for reading each key. You don't have to install any software to use the keyboard, and if you just wanted something simple to use every day, this is it. The keyboard has no fancy features to it, and it connects via wire to your device. It is a great accessible keyboard that comes in at an affordable price.
Keyboards come with a variety of different options. Before searching for your perfect fit, make sure to do the necessary research to see what features must-have for you. Once you found what works, you can start searching away. If you need your keyboard shipped internationally, Forward.me is the place to go. They will securely package your keyboard and get it on its way to you at a fair and reasonable cost with no hassle.