How to Buy Apple from the US
Save money on new Apple products by buying from the U.S. and shipping internationally.
What our customers are shipping
Check out what our customers are shipping with us daily. With our discounted shipping rates, you can have those hot items shipped right to your home!
New iPad Pros with M1 Chip Processors
The most powerful tablet you can find. Next-generation iPad Pro features with M1 chip, ultra-fast 5G, and Liquid Retina XDR display. The new iPad Pro has a new 12-megapixel camera that can track users automatically during video calls, and the 12.9-inch model has a display that uses a new Liquid Retina XDR display. The 11-inch iPad Pro will be available starting from $799, whereas the bigger screen 12.9-inch iPad will start at $1,099.
.
A New Color for iPhone 12
If you've always wanted an iPhone in a very cool color, you'll be happy to see the portable version of the iPhone 12. The new Apple iPhone 12 has a soft pastel color that isn't too bright or vivid but surely stands out from the crowd.
.
Completely Redesigned iMac 
The world's most iconic computer is renewed. All-new iMac with M1 chip features the stunning design in an array of 7 outstanding colors. The new iMac has a brilliant 4.5K Retina display, speakers ever in a Mac, and Touch ID for the first time. The new iMac will be available starting from $1299, and you can also get models with better specifications from $1499. 
.
How Forward.me works
1
Sign up and get your sales tax-free Delaware address
Sign In and complete our fast, secure application process and immediately start forwarding deliveries to your new U.S. address hosted by Forward.me.
2
Shop in any U.S. store and ship it to your new U.S. address
Start shopping US online stores and thousands of exclusively selected brands just for you. You can also shop from our Shopping tool. At checkout, just enter your Forward.me address and your products will be delivered to our USA facility.
3
Combine your packages and save money
Shop from multiple brands and request Consolidation when ready. We will combine your preferred packages into one so you can SAVE more from the shipping cost. Check out our Shipping Calculator for shipping over 220 countries to find a convenient carrier for your delivery.
A better way to send packages abroad.
Parcel Delivery Quote

Easy price comparison of different couriers under one platform

Fastest Order Processing System

Our operation experts will process your valuable packages within 24 hours to 3 days once it delivers to our warehouse.

Worldwide Deliveries

Express and Economy services available for all international exports and imports

Parcel Tracking

Real time shipment tracking from the moment it has been picked up until it has reached its final destination

No Hidden Fees

No processing fee for the received packages. No storage fee for the first 15 days! Every fee is upfront, please check out our pricing page for more details.

Savings on Purchases and Shipping

Shop without paying US sales tax. Save up to 80% on shipping consolidated packages

Faster and Easier Checkout!

Our interface will allow you to achieve more in a shorter time! We are developing our website daily to provide you with a better experience every time you log in.

Reach Us Anytime, from Anywhere!

We are always ready for you! Our expert and friendly customer service is ready to answer your questions by live chat, email, phone, and even on social media;)
How to shop from Apple USA
1. Go to Apple.com
2. Choose your country or region as "United States"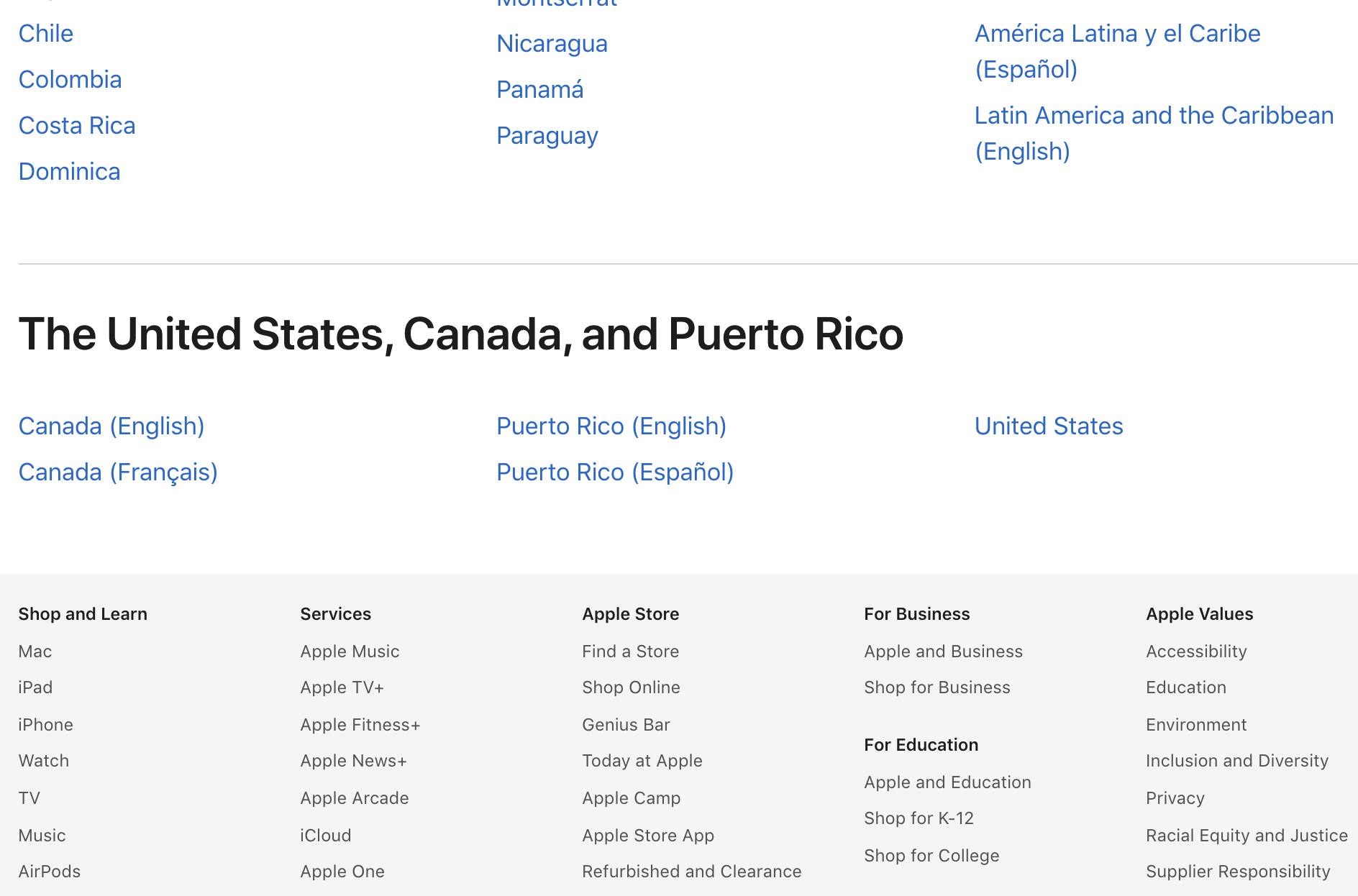 3. Log into your account or create an account
4. Shop your Apple products on Apple online store
5. Check your Shop Bag and click on "Your Account."
6. Click "Your addresses" under "Ordering and shopping preferences.
7. Add your address that is given by Forward.me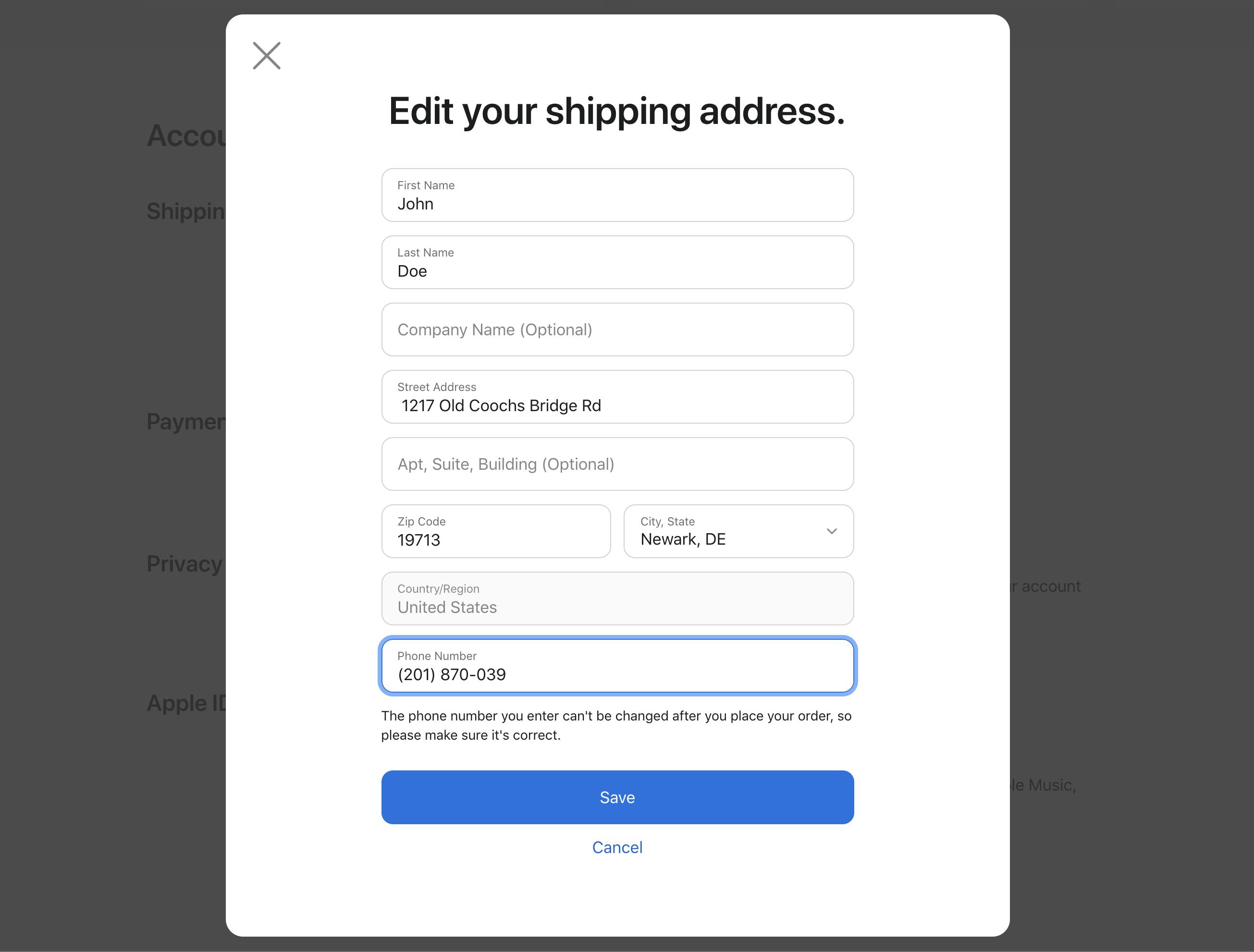 8. Finalize your purchase
Testimonials
Nathat G.

Kuwait
It was a great experience, Forward.me have a good team, thank to team really helped me.
Teresa

Belgium
I consolidated packages into one box and they were able to do it very well. The package was shipped promptly through DHL and much cheaper than if I shipped it on my own. I recommend them.
Christian

Taiwan
Great service! I have requested to transport a heavy and fragile item. But I was not at all anxious, because I was able to get the right advice for the package quickly. Thank you so much!
Tanner

Saudi Arabia
The support is really quick and the answers that i get are really helpful. The box came with no problem and i hope the next ships will be the same because i would go with Forward.me again.
Frequently asked questions
Where can I find the best deals in the US to buy Apple products?

The Mac Index provides a comprehensive list of all the best deals on MacBooks and iPads. It's also good to check websites like BestBuy, Amazon, or B&H Photo for discounts. They will have some sort of discount on Apple devices-just make sure to find one that is right for you before paying them any money! Another idea is looking at specialized sites such as MacRumors. Other websites that provide these types of roundups include TechRadar and DigitalTrends.

When to buy Apple products?

Apple's new Mac models are usually launched in the middle of the year, sometime between April and October. If you're looking for a new smartphone or tablet on the cheap, take advantage of Apple's release schedule. Older generation iPhones and iPads are discounted when they hit shelves to make way for newer models. Also, there are worthy deals on Apple during Black Friday or Cyber Monday promotions!

Does Apple Deliver Internationally?

Apple's US online store doesn't offer international shipping. It is the company's policy: you can't buy from Apple US and ship internationally directly. However, you can use Forward.me forwarding service to ship Macbooks, iPads, iPhones, or other Apple pieces from the USA to your country.

What is the best option to ship your products internationally?

The options are several, and it can be quite difficult to know which one will work best. Forward.me should be an excellent choice for international shipments of any size or type! Some The company is specialized in shipping packages from the US to 220 countries across the world!

Where to buy the cheapest Apple products?

Stores like Walmart, Costco, Target, and Best Buy offer older generation iPhones and iPads for a discount when Apple's latest generation hits the shelves.

Do Apple products have a warranty when they are shipped abroad?

Yes, they have Apple warranty even they are shipped abroad.

Is it worth buying Apple products from US by Forward.me?

The US has been the best place to buy Apple products. Buying a laptop or tablet from the US is actually going to be cheaper than purchasing from your own country. When you use this service, it's possible to save up to 50% on Apple products by comparing the prices in your country. This is usually because of taxes and currency exchange rates. Also, due that when you use a free US street address service, buyers can consolidate orders under one tracking number and save time! All import tax and duty are paid upfront so there will be no hidden fees upon receiving your parcel. All import tax and duty are paid upfront so there will be no hidden fees upon receiving your parcel.

Is it safe to buy refurbished MacBook?

Apple offers a 1-year warranty on its refurbished products. Apple gives customers the opportunity to purchase eligible devices for less by Apple Certified Refurbished product option. Apple promises that the products complete a meticulous refurbishment process to provide an Apple product as new when you get an Apple Certified Refurbished product. Your refurbished device is totally "like new" with special savings of up to 15% with original Apple replacement parts that has been deeply inspected and cleaned. When you order Apple refurbished devices that have a new battery and out shell will be sent in a brand-new white box which includes all accessories, operating systems and cables to you with free shipping and returns.  When you purchase AppleCare products, the company will provide one-stop service and support from experts who are intimately familiar with their product line. Most issues can be resolved in a single call when you contact Apple.

What are the best places to buy a used Macbook?

Here the list of our picked top 5 places to buy a refurbished MacBook: Apple Store, Amazon Renewed, Back Market, Mac of All Trades and RefurbMe.

Can I use my Apple Store gift card?

Yes. You can use your gift card to shop the Apple Store.

How does Forward.me work?

Forward.me provides international shoppers with a US shipping address you can use when placing orders with US online stores. The store ships your purchases to Forward.me, we ship it to you, and you save BIG on international shipping costs.

How do I apply for a Forward.me membership?

Click here to apply for membership. You will immediately receive a US address you can use to shop US online stores. View and compare our membership options to decide which is best for you. Forward.me Premium membership offers the best value, with discounted shipping costs, free package consolidation and 45 days of free storage.

Why is Forward.me rated #1 in the international shipping industry?

Forward.me international shipping rates are the lowest in our industry, and we specialize in express shipping worldwide in 1 to 4 days. Forward.me is expert in international shipping. Our team prepares your items properly for international transit, the customer service team handles any international shipping issues, and trade compliance team ensures your shipments comply with all export regulations.

Is it cheaper to buy Apple products from the US?

Yes, it is. The US is definitely the cheapest place to purchase Apple products. International customers pay higher prices than American customers generally when shopping at US websites. One of the cheapest ways to buy any Apple product online is by placing an order straight from the official Apple US online store.

What's the best option if Apple does not accept my payment method?

If Apple does not accept your preferred payment method, select the products you want and then use our Personal Shopper service and we will buy them for you.

What if I have more than one packages?

If you have packages from different retailers and want to save money on shipping, we have consolidation service. We'll consolidate and ship them all together so that your international shipping charges are just a fraction of what they would be if they were shipped separately.
Ready to shop from the US stores
It is the fastest, easiest and most affordable way to ship internationally. We'll take care of the rest of your shipment when you shop from your favorite US store. You can combine your items from different US stores to reduce shipping weight and have them delivered in 2-3 days in your country.
Get Your U.S. Address